About
Kayloma Collies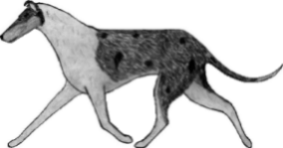 Elegance, Movement & Body
Kayloma Collies is owned by Vicki D. Loucks. Kayloma Collies is located in New Mexico. Our phone number is 505-401-1406, please leave a message. Email Vicki at Kayloma@aol.com
Kayloma is a registered kennel name with the American Kennel Club .
The goal of Kayloma Collies is to produce healthy and versatile purebred collie dogs.

All adult dogs are tested for von Wildebrand's Disease, thyroid function, and Collie Eye Anomaly. All adult dogs have hips and elbows OFA certified.

Kayloma Collies are fed the Bones and Raw Food (BARF) Diet. Kayloma Collies strongly encourages puppy buyers to continue feeding the BARF diet and will provide guidelines for feeding.

Kayloma Collies typically has a litter of puppies every 18-24 months. Therefore you may have to wait if you want one of our puppies. Occasionally but rarely we do have adult dogs for placement. If we do not have puppies available and know of a litter from a responsible breeder elsewhere, we will provide referrals.

All puppies sold by Kayloma Collies are sold on a contract. Pets are required to be spayed or neutered. Prospective owners of Kayloma Collies must fill out an application and agree to the requirements in our contract.

Puppies are not placed in permanent homes until they are at least 10-12 weeks of age. We allow our bitches to wean their puppies and do not force wean at 3 weeks of age. Once the mother has started to wean the puppies they are offered ground raw food and pieces of raw chicken neck. By experience the mothers typically don't start weaning until about 6 weeks, the puppies are usually on a 100% raw diet by 8 weeks but may still nurse a little. The puppies are kept with their mother until placement. By allowing the puppies to stay with their mother longer they learn better doggy etiquette. Another reason for keeping them at Kayloma Collies until at least 10-12 weeks is becuase all puppies go through a fear imprint period at approximatley 8-10 weeks during that time period it is very important that a puppy has no big changes in their life.

Puppies are raised inside and are raised to be housedogs. Once they are old enough, about 8 weeks, to start sleeping in a small dog crate, the puppies will begin their housebreaking here. They spend part of their day inside and part outside, a lot depending on weather and the time of year they were born. Puppies are very susceptible to temperature change and can die from overheating or freezing.

Homeopathic Medicine is used at Kayloma Collies instead of Orthodox or Allopathic Medicine. We have used this form of medicine exclusively since 1994 and have seen nothing but improvement in overall health of our dogs. Homeopathy is not herbs, it is a form of medicine which was developed by a German Doctor Samuel Hahnemann in the late 1700's.

Upon placement of puppies new homes are provided with a Homeopathic remedy kit with approximately 25 remedies included. A list of Homeopathic veternarians will also be provided. Remedies should only be used in consult with a veterinarian trained in Classical Or Hahnemannian Homeopathy. Vicki has taken 2 years of training in Classical Homeopathy and is available for consult on dogs and puppies, which were bred at Kayloma Collies. Vicki is continuing her education in Classical Homeopathy at this time. If a case appears to complicated or difficult she will ask you to call your Homeopathic Veterinarian

Kayloma Collies does not routinely vaccinate for distemper or parvo. However, Kayloma Collies does recommend that people vaccinate for Rabies as mandated by State law where you reside. The reason for not vaccinating is based on beliefs within areas of the veterinary community that routine vaccination causes more harm then good. Literature and references will be provided to potential homes for puppies or adult dogs. The basic principle for not vaccinating is that healthy animals can fight off disease naturally if properly fed and cared for. A healthy diet and treatment with Homeopathy is a good place to start.

Due to the fact that we do not vaccinate dogs which live with us we do not vaccinate puppies before placement. The vaccine would expose the dogs unnecessarily to disease if puppies were vaccinated here. A recommended vaccine protocol will be provided upon placement of puppies. However, we recommend that you work with a Homeopathic Veterinarian and use Homeopathic Medicine for prevention of disease instead of vaccination. The recommended vaccine protocol was developed by Vicki and her Homeopathic Veterinarian. The vaccines recommended are monovalent (one virus in the vaccine) using a killed virus. Galaxy makes a monovalent Distemper vaccine, there are two manufacturers of a killed monovalent Parvo vaccine and Rabies vaccine is a killed monovalent vaccine, your veterinarian can purchase any of these vaccines but you may have to be insistent. Health Guarantees are voided if the new home chooses to vaccinate and does not follow the vaccine protocol provided by Kayloma Collies.

Clip art and background courtesy of